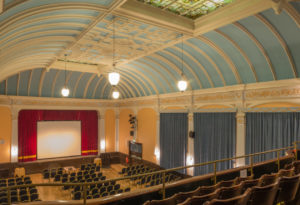 Grange Lecture Society held its first meeting in the Victoria Hall on 6th January 1908. Apart from a few years in the 1920s, this has been its regular venue to the present day.
We aim to provide a programme of informative and entertaining talks on a wide range of topics including travel, art, history, literature, music science and medicine etc.
We are delighted to announce that our next programme of lectures will commence in October 2023. Check below for further details!
GENERAL INFORMATION
The programme of 10 lectures are given at two weekly intervals from October to March with a gap of a month for Christmas. Lectures are held in the Victoria Hall starting at 7.15 pm. Please arrive before 7:05pm at the latest to allow yourself time to purchase your ticket and find a seat.
Season Tickets: £46 Single Lectures: £10
Season tickets for the 10 lecture programme with a reserved seat, can be purchased by completing one of our application forms, which can be found here. Unfortunately, single lecture tickets are only available at the Victoria Hall on the night of the relevant lecture.
You can download the dates for our upcoming lecture series in a printable PDF format below.
Registered Charity No 702671